As well as the MX-5 SuperCup races, I also competed in an endurance race with the BRSCC ClubSport Trophy over the same weekend. I've done a few of these one-off races this year and it's great fun to mix it up with a really varied grid of other cars, as well as having to factor in a pit stop.
Still in the MX-5, with the same spec used for the MX-5 SuperCup, it's quite a bit slower than many of the front-running cars but the race is split up into performance based classes. The MX-5 ends up in Class D and competes with a number of other MX-5s as well as a few other cars like Toyota MR2s.
Qualifying
In previous ClubSport races during the year the MX-5 in it's SuperCup spec has been very competitive within Class D. We took a class win at Snetterton at the start of the year and were set to do so again at Silverstone later in the year (but with some bad luck around pit stop and safety car timing meaning we ended up P2).
However whilst our performance has stayed the same some other cars within the class have optimised and improved their cars since and have moved the game on a little. All perfectly fine and legal, but it made for a surprising challenge being put onto the back foot when we previously had a good chunk more pace relative to the competition.
In qualifying, it quickly became apparent that the Toyota MR2 of DannyDC2 was going to be pretty untouchable with him putting in laps consistently about a second quicker than the best I could manage.
More of a shock was one of the other MX-5s in our class which looked a lot like another SuperCup car turned out to not be a SuperCup car at all and was something much, much faster. The MX-5 of Bruce Robinson looked a clear favourite to run away with the class win, out qualifying me by around two seconds and putting himself firmly in P1 for the start of the race.
With the rapid MX-5 and MR2 in front, that left me lining up P3 in class and lucky number 13 overall on the grid of 39 cars. A good result all things considered, but with some work to do!
Race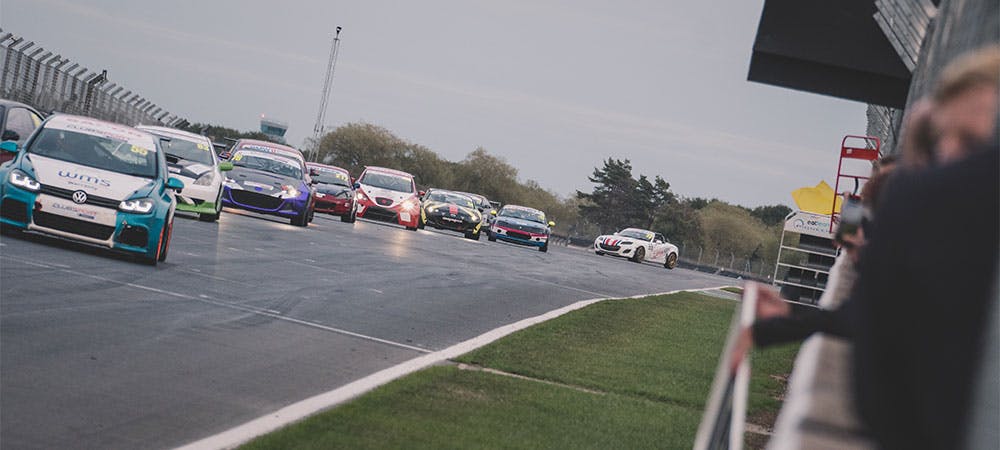 Lining up in P13 at the start, third in class and surrounded by some much more powerful cars, it felt like the start was key here. It's a long race, but the two cars I'm racing are starting ahead and have more pace, so realistically the best I can hope for is to nail the start, get ahead, and hope they get caught up in fighting with each other and that I can build a bit of a gap.
Lights out, and the start was great. I immediately drove past some of the Class C cars in front and got along side the MR2 in my class. He also had a good initial start, but some good luck (for me) saw him get boxed in by other cars and he had to lift, letting me get (slightly) ahead into Turn 1.
The MX-5 of Bruce Robinson was still clear ahead, but moving up to P2 in class was a good start! Unfortunately holding on to that position proved about as tricky as expected.
Despite being very slightly ahead, the MR2 just had far better traction out of the corner and we were immediately alongside again for the run down Craners, and he'd pulled about half a car length on me by the bottom of the hill. I tried to go down the inside into Old Hairpin but he covered that off, regaining the position and then clearing off up the hill.
And that was that! I tried to stay with him but just didn't have the pace of the MR2 nor the souped up MX-5 out in front, who lap after lap just increased the gap.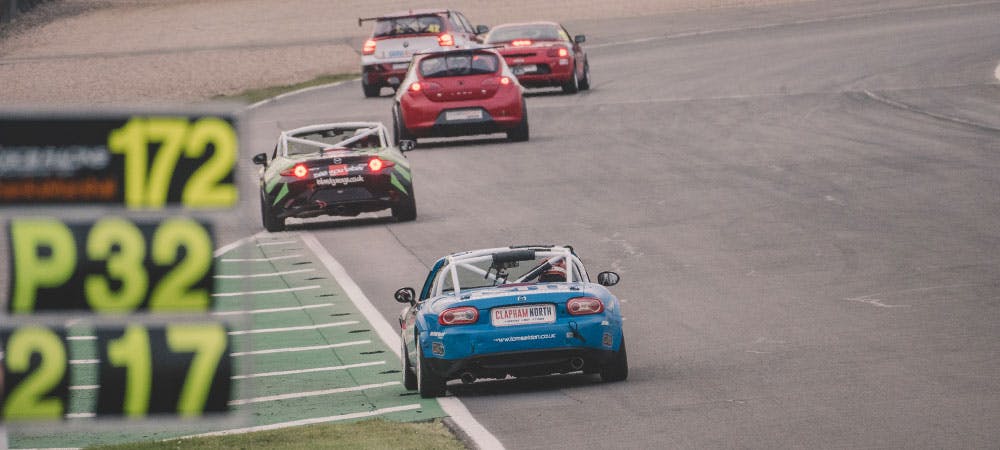 I had a big gap between myself and P4 in my class, so it looked like it was going to be a lonely race in P3 until the end. But, drama. The MX-5 out in P1 was running away with it and fighting cars in faster classes, but a mistake into the chicane saw him hit the tyre barrier head on. This put them immediately out of the race with a severely damaged car, and triggered a safety car.
A competitor crashing is never how you want to gain a position, but that is just part of motorsport and I've certainly been on the unlucky side of crashing over the past two seasons, so a positioned gained is still another position whatever the reason for it. Up to P2!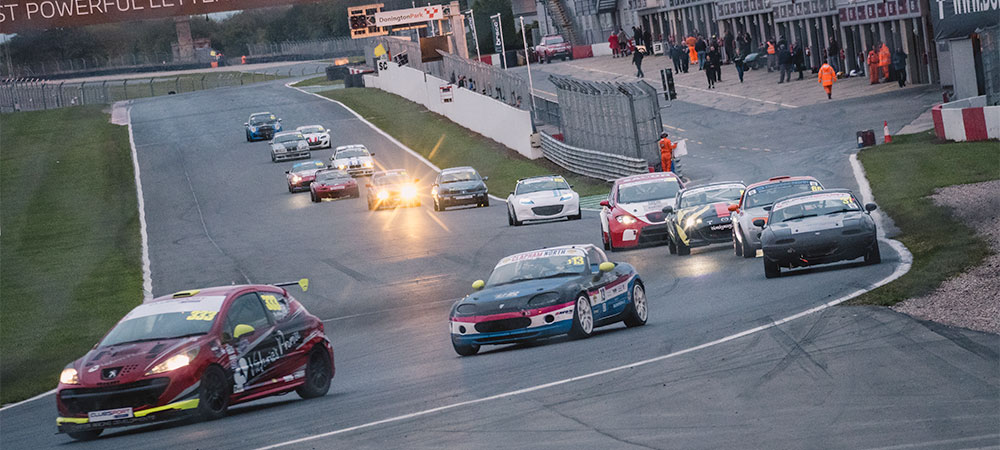 A safety car restart meant a chance to close up to the MR2 now in P1 and have another go, but on the restart I just got swamped by more powerful cars that were behind. The MX-5 is great at getting a good launch from a standing start, but on a rolling start it's lack of power shows and it's always going to lose out on the drag down the pit straight.
From there on out there were some fun battles with cars in other classes like the Mk4 MX-5s and hot hatches, but the class leader was pretty much out of reach.
A late safety car added a load of confusion, with it failing to pick up the leader and then trying to let a section of cars through to un-lap themselves and get back to a state with the overall leader being behind the safety car. It makes sense on paper, but in practice some cars didn't understand they had to pass the safety car, and some that did didn't increase pace to re-catch the back of the pack. With no overtaking allowed under safety car conditions this ended up with small packs of cars dotted around different parts of the track, all going slowly and not re-joining the pack behind the safety car.
When the race restarted, I was half way around the track behind a small group of cars, and with the safety car nowhere in sight. I made the most of it and was ready for the lights to go green, and managed to pass them as soon as the race restarted. Some good fun racing there to the end, but ultimately we were all in different classes and the positions didn't really affect the result.
I came home P2 in class, a fair way behind the MR2 in P1 and a healthy amount of track between me and the MX-5 SuperCup car that finished third.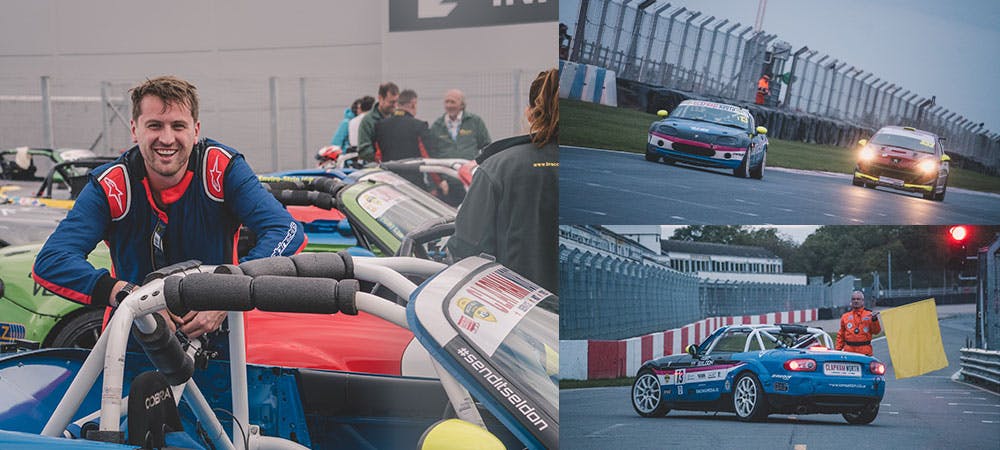 A fun, confusing, and kind of lonely race- but given the circumstances, I'll take P2!