That's a wrap to my first season of the MX-5 Supercup!
There's been highs, lows, and a few crashes along the way... which is as good a description for the whole season as it was for the last race meeting at Brands Hatch.
Qualifying
It was a track I'd not driven much before, and some car issues during testing meant I didn't quite get the head start I wanted, but qualifying still went worse than expected.
It was very moist.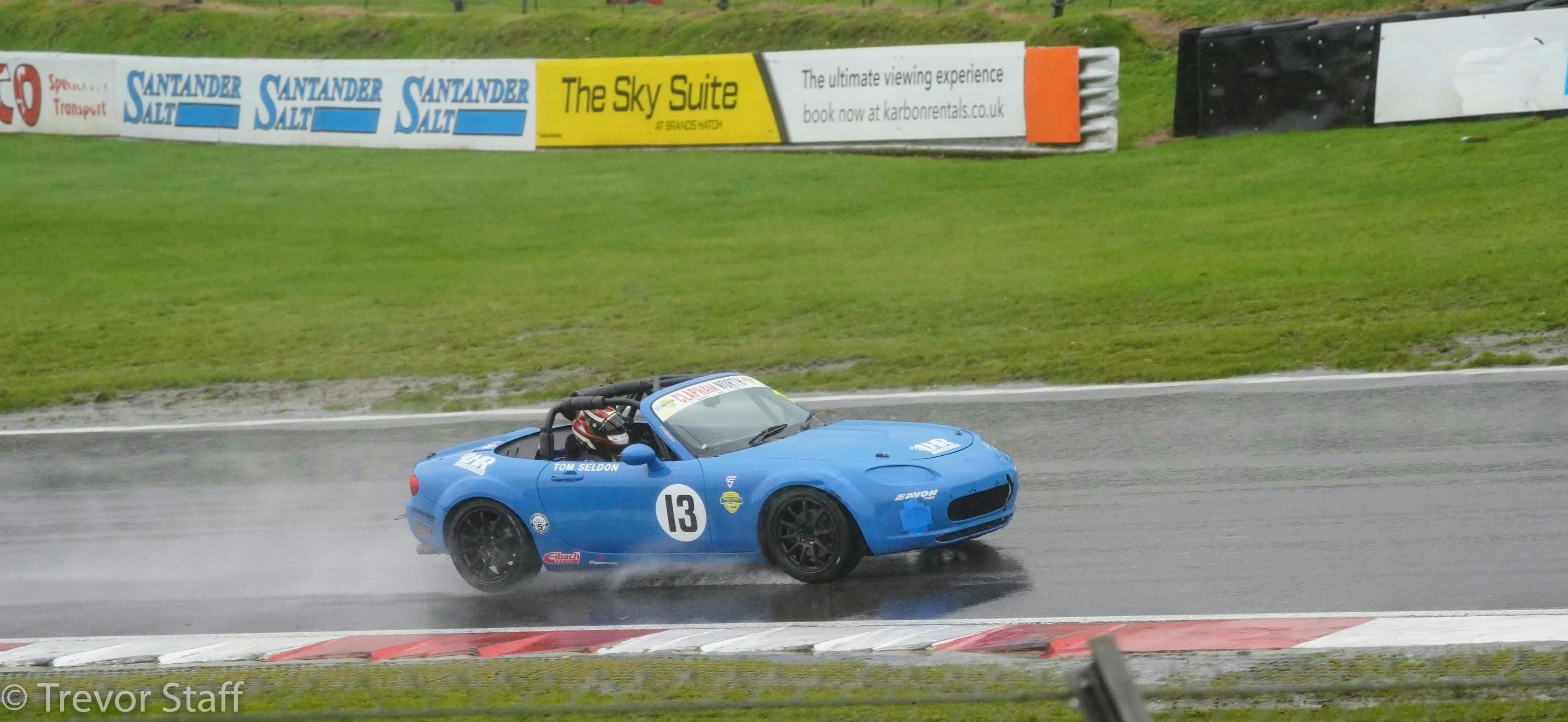 I'd had a couple of runs in the wet during testing, but I still felt very much on the back foot. For a lot of the lap around Brands, the penalty for getting it wrong is potentially a trip into the wall (more on that later...) and I just didn't have the confidence to push for a quick lap. I ended up very disappointed down in 28th place of 33 cars.
Still- a poor qualifying has been a bit of a trend for me this year (with a couple of exceptions) and it does at least mean a fun race of making up places. Full send for Race 1!
Race 1
Taking place a few hours after qualifying, the rain had held off and a dry line had more or less appeared around the track. Starting way back in 28th, I was happy I had more pace in the dry-ish conditions than the cars around me, so was ready to get on it and make up some places.
Despite the drying track, I was starting off-line and it was still as wet as ever. I was a little over zealous on the revs and got a terrible start, dropping back to P30. Not the start I wanted.
Despite catching cars and having more pace, it was extremely slippery off the only dry line around the track and it was very difficult to make a successful pass. Pushing through the field was more difficult than expected- by lap 10 I'd moved up to P27 but it was very closely fought. I had a number of cars right on my rear bumper, and two cars in front that were battling and slowing each other up as a result.
Going into Clearways, a fast left-right chicane, there was a dry line on entry and I was finding I could gain some ground on the cars in front through there. I was a couple of car lengths behind them on entry and one got forced very wide on turn in, pushing them well onto the wet stuff and nearly onto the grass. Still at full speed I saw a chance to, if not get through then at least get alongside them into the braking zone right after the chicane.
But... As I started to edge alongside them, they had a small slide and drifted towards me. I quickly moved to the left to avoid contact, but it put me onto the wet part of the track and I immediately has a small slide of my own. A small slide with no room to correct. A small slide that quickly took me onto the wet grass, and a short time later (although it felt like forever) into the waiting tyre wall at the edge of the track at about 50mph.
Watching the replay back of my trip to the wall, I think I was very much in denial that it was a race ending moment as I was still 100% confident it was recoverable, with full opposite lock and changing down the gears right up to the moment of impact... But it was definitely a race ender and an expensive way to get a headache.
On reflection it was a bit of an opportunistic overtake to try and make work, but with cars right behind me looking to make similar moves, and dwindling time to get through the pack, I definitely felt I had to try and make it happen. This time, it didn't really work out.
Luckily, despite the car looking completely terrible after the hit, there was very little mechanically wrong with it. Some tracking adjustments later and the car was already for the races the next day!
Race 2
As normal, the starting position for Race 2 is set by your second fastest qualifying time. This was not good news.
Starting in P28 again, it was definitely wetter than Race 1. The rain was hammering down, but I got a better start and had a good run on the cars in front into the first corner, Paddock Hill. Predicting chaos down the hill, I decided to back out of a risky overtake and instead give myself some margin to avoid any accidents that happened in front.
This turned out to be a good decision. Visibility was awful, with the rain and spray from cars in close proximity, I really couldn't see anything, the track included, other than some vague rain lights and brake lights. Brake lights that, coming down Paddock Hill, seemed to be in places they really shouldn't be.
Someone had some contact, which given the conditions, quite a lot of people got caught up in and ended up, well, everywhere.
Being further back and giving myself some space on entry meant I didn't get caught in the chaos and managed to pick through the carnage. P28 to P22 by Turn 2.
It was a shorter race than normal (15 minutes compared to the normal 20), and a long safety car period to clean up the mess at Paddock Hill killed quite a lot of the race time. But once we got underway again, with 4 laps of racing remaining I managed to move forward to P18. I'd caught some slower cars in front and thought about trying to fight my way past, but knowing we were so close to the end, and that the finishing place for this race determined the starting position for Race 3, I decided it wasn't worth the risk for another position or two and coasted home to finish P18.
Race 3
The final race of the weekend, and of the MX-5 Supercup season!
Starting P18 this time- it was a really fun race, some close battles and I moved forward, and I managed to get up to P15. But the pace differences in the top 15 just aren't the same as when you're starting down in P28, and the next group of cars were quite far up the road. I made some ground on them, but I couldn't close up the gap and even if I could, I think it would have been difficult to make an overtake work. Despite the work to get to P15 and creating a safe gap to the group of cars behind, a missed gear change on the start-finish straight saw me lose a lot of time and suddenly drop back into a battle with the car in 16th. I held them off for half a lap but then they managed to sneak through, and I couldn't retake the position with the time left in the race.
Finishing up in P16- it's not my best result of the year (P13) and I still haven't managed to break into the top 10, but it's been a great weekend nonetheless (despite the low points).
Now it's straight into winter testing, putting in the hard work to get into the top ten for next season!