With what feels like only a short break from Snetterton, we set off to Cadwell Park. Having never driven this track before, and with it's reputation as being a mini-Nürburgring with it's narrow, fast, cambered, and undulating layout with little run off, it was sure to be a weekend of avoiding contact...
Testing
We tested at the track for the Thursday and Friday before the race weekend to give the best chance of getting on the pace at a new and difficult track. However, Thursday was mostly a write-off in terms of track time due to endless red flags (often not even completing the out lap before the session was stopped).
Friday went better, with lots of unobstructed track time and consistently building pace through the day. By the end of Friday pace was looking good, with lap times capable of being just shy of the top ten.
Qualifying
The track had slowed somewhat compared to Friday, and some frustration of not achieving the same times as during testing led to some over-driving and even worse times.
I qualified P20 for Race 1, and P19 for Race 2. This was a little disappointing as I was expecting to be fighting to get into the top 10, but the silver-lining was that I knew I was faster than the cars I'd qualified around so I could go forward in the race.
Race 1
Disaster. A really good launch off the line but missing second gear, I dropped right back down the order to last place. I worked back up to P24 by the end of the race, but overall, massively disappointing.
Race 2
A really good race, but marred by contact. Despite starting in P19, I got a good launch off the line and gained a place at the start, slotting in front of my team mate before the first corner.
Some really good, close, but fair racing all through the race eventually saw me running in P13 behind my team mate as we worked through the traffic.
Going for a move to go into P12, it was perhaps a little ill-thought out and resulted in them closing on the door on me under braking and pushing me off the track. This was a race ruiner, and I dropped from P13 fighting for P12, to down to P20-something. It was too close to the end of the race to make a meaningful recovery, and after such a solid race up until that point... it stung a little.
Race 3
The silver lining of Race 2 was that however bad the result was, it could always have been worse. Race 3 showed what worse looks like...
A poor start saw me losing some positions off the line, but this was fine as with it being a reverse grid race chaos was almost guaranteed up front which meant the pack wasn't going to pull away. Lost positions could be regained without too much trouble.
With it being a reverse grid race, and turns 1 and 2 being particular pinch points, it was all about just avoiding contact and surviving for the first couple of corners, and then pushing.
Unfortunately, not everyone shared that ethos and going into turn 2 there was some contact up front causing the field to bunch up. This was avoidable, however to top it off another car came through from the back and practically kamikazed into the slowing pack of cars. They hit the car to my right, and I took to the grass to avoid contact with them. Another car then hit them, and spun them around into the side of my car.
I did my best to avoid contact, but ultimately got caught up in someone else's accident and I really don't think it was avoidable from my perspective.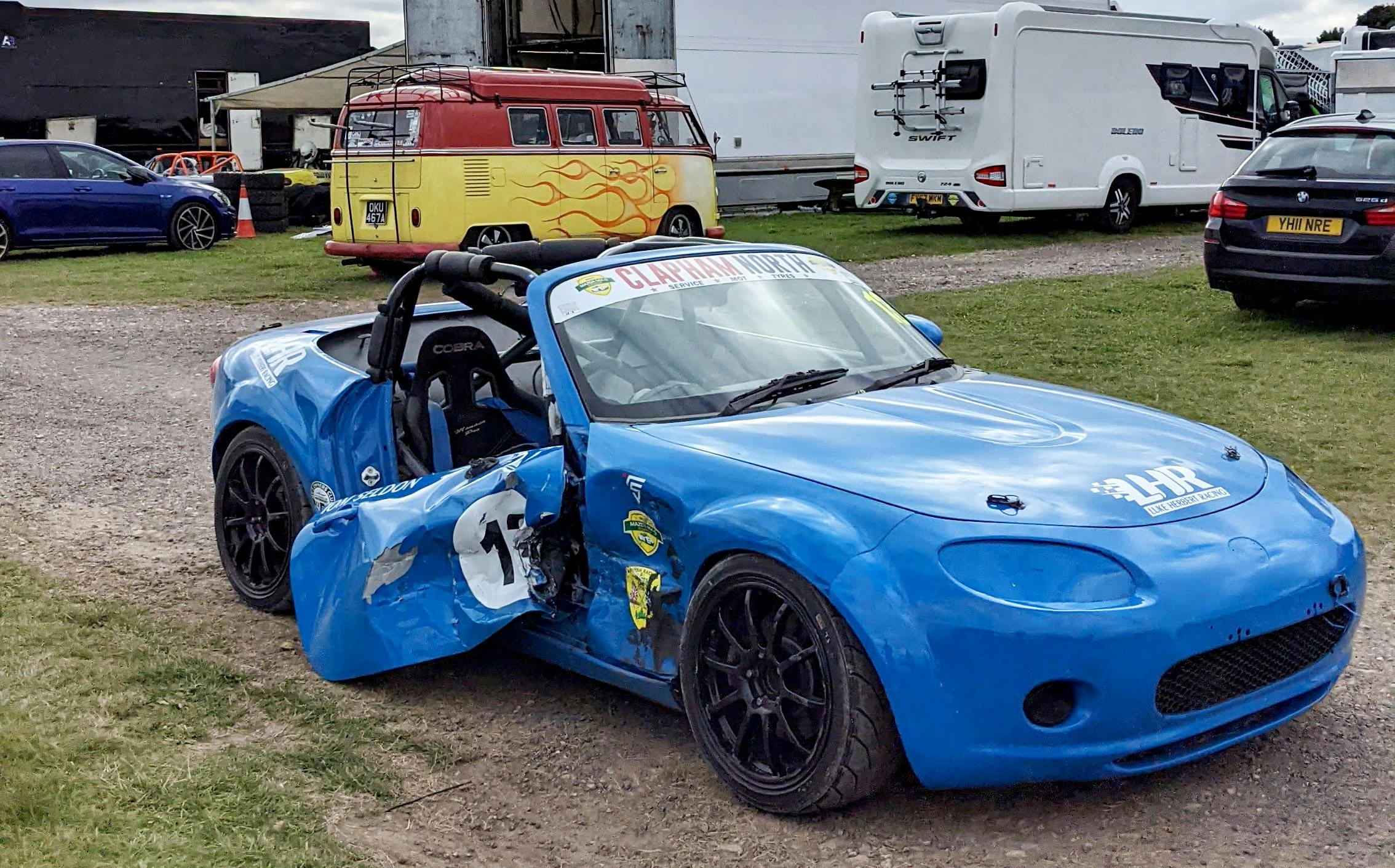 This was a race ender, with the only highlight being it was the last race of the weekend as the car was wrecked afterwards. With thousands of pounds worth of damage and the whole right hand side of the car being damaged, it's quite a frustrating end to a weekend which from testing looked very promising...
Conclusion
Cadwell is an absolutely fantastic track to drive, and I think my new favourite UK circuit. But it's extremely unforgiving and narrow, meaning it's so easy to get caught up in someone else's accident.
It's not the result I wanted out of the weekend, but that's racing.
There's two races left of the season- Donington Park GP at the end of September, and Brands Hatch Indy in October. Some luck and a good result at one of the remaining races would be very welcome!