For the penultimate round of the 2021 season, we raced at Donington Park on the GP layout.
To sum it up in a word: Chaos.
Three races, and every race had at least one moment of narrowly avoiding a major accident as cars span or crashed in front of me. Luckily the car came away without any damage (lucky #13!), save for being pepper-sprayed by gravel from people going off in front (goodbye, brand new windscreen).
Qualifying
Continuing my form of solid pace in testing and not putting it together in qualifying, I qualified P21 for race one and P19 for race two. Being easily six tenths up on my best lap at one point (good enough for P11), but a run of mistakes just meant I couldn't put a good lap together. Still, it's good knowing you're starting the race around people you should be quicker than!
Race 1
In typical Supercup fashion, there was a big crash on turn one, lap one. I'm not sure how many cars were involved, I was too busy trying to avoid the cars spinning in front of me. One car even got airborne and rolled... Thankfully nobody was hurt, and thankfully for my racing budget I managed to avoid any damage!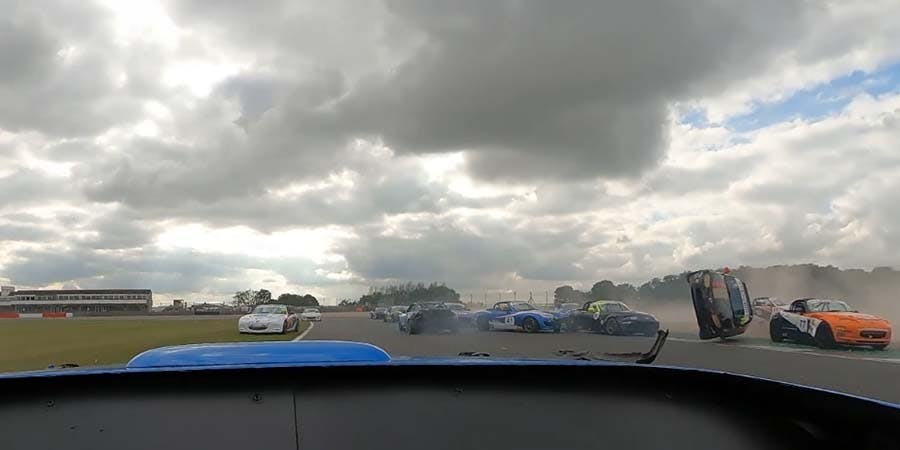 The race was immediately red flagged for them to clear the track of broken car parts, and broken cars... It was eventually restarted for a shorter, 15 minute race.
It was a fun race, but a few too many mistakes on my part that meant gained positions were lost again.
Race 2
Starting in P19 for race two- I had a small slide into Coppice on lap 2 which saw me drop right down the order. I drove back through the pack to get back up to 19th place by the chequered flag. It was another fun race, but I wanted to be moving forward from 19th, not dropping to the back and finishing in the place I started!
Another near miss as cars in front made contact into the last corner and span towards me- watching the footage back I'm still not sure how we didn't make contact!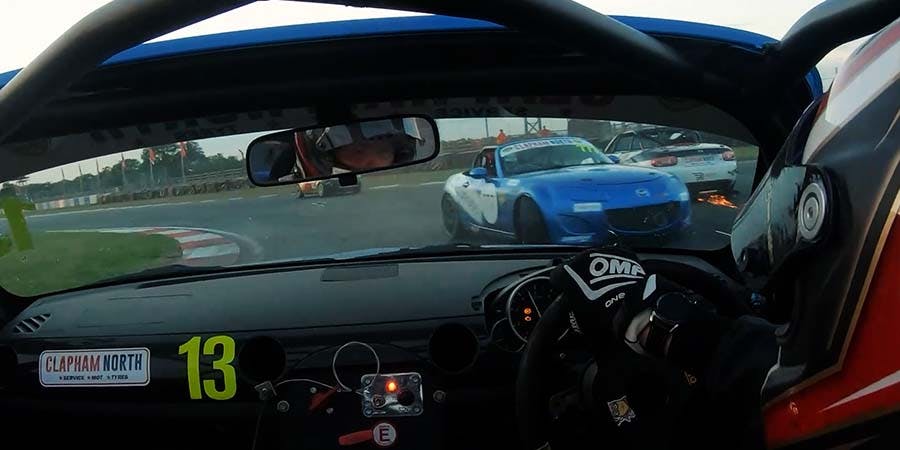 Race 3
Starting in P19 for race 3, I think this has been my most fun race yet in the MX-5 Supercup. Making up some positions on the opening laps meant I could get stuck-in to a four way battle for P11, with positions chopping and changing between the four cars constantly throughout the whole race.
Although, like Race 1 and 2, I narrowly avoided another crash where cars hit each other going into the chicane...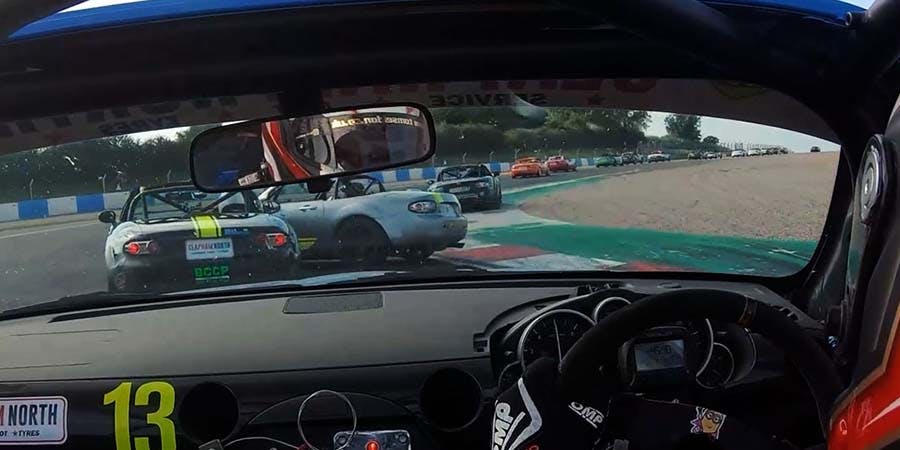 It was a hard-fought race, but battling for P11 meant we were slowing each other down and the lead pack of 10 cars just slipped further into the distance lap by lap. Amazing fun, but it would have been good to get on the chase for a first top ten finish.
I was running in P11 for a while, but on the last lap I slid across some gravel that had been kicked up through the chicane. The slide wasn't a race ender, but it meant the two cars right on my bumper could squeeze past with only two corners of the race to go. It was a slightly frustrating end to the race, as P11 would have equalled my best finish, but regardless it was easily the most fun race yet. Bumper to bumper racing from start to finish!
Conclusion
My first season of MX-5 Supercup is rapidly coming to a close, with just the Brands Hatch round left later this month. My goal for the year was to get a top ten finish, which is easier said than done given the skill and experience of the people at the faster end of the grid. I've been getting closer and closer to it all year, and I thought Donington would be the best chance to finally achieve it. I missed out on that in Race 3 by getting caught up in the race-long battle for P11, which moves the last chance to hit this goal to the three races at Brands!
The Donington weekend was a massively fun race weekend, and we came away from it with some new coaching points to find some more pace.
The fight to break into the top ten is on for Brands!