Going back to where it all began- C1 racing at Pembrey!
A bit of a change of pace compared to the MX-5 Supercup, but last weekend took us back to Pembrey in South Wales for two 3 hour Citroen C1 endurance races.
Two years ago in 2019, my team mates (James and Alistair) and I all got our race licences and tried out some C1 racing at Pembrey. It was a huge amount of fun and a great introduction to racing, pit stops, strategy, and a big departure from the track days we'd done previously. For me, it was the kick I needed to finally go all-in on racing and try to get as much experience as possible, in the shortest time possible, leading to more C1 races, my first season in the MX-5 Supercup, and several one-off races in other series.
Pembrey is the closest thing to a home race for me, so to go back there this year to where I had my first ever race felt great.
Testing (or lack thereof) and Qualifying
As a team we decided that we wouldn't do any testing ahead of the race, mainly seeing as it was just for a bit of extra fun in-between our other races (the MX-5 Supercup for me, and the All Porsche Trophy for James and Alistair).
This was fine, but meant that we went straight into qualifying on Saturday being quite off the pace compared to the teams that had been testing there on the Friday and predictably didn't qualify all that well- ending up a pretty disastrous P23/29
But, the silver-lining was that by starting so far back it was a good opportunity to practice some race craft and get overtaking!
Race 1
With three drivers sharing the car for a three hour race, this neatly breaks up into each driver doing roughly an hour stint.
Our poor pace from qualifying quickly disappeared as we got the laps in, with all three drivers putting in similar and consistent times throughout the race. With some good, quick pit stops mixed in, with about half hour left of the three hour race we were set for a P12 finish which would have been a nice result (equalling our best finish in the C1) considering we used our 15-20 minutes each of qualifying as our testing!
But... A small error during one of the driver changes where the driver forgot to scan their wrist-band as they left the pit lane (necessary so that the timing system knows which driver is in the car), meant we were landed with a one minute stop-go penalty. This effectively killed our race and dropped us back to 15th by the chequered flag.
Not an awful result considering the penalty, but frustrating to miss out on P12!
Race 2
The finishing order for Race 1 sets the starting order for Race 2, so we lined up on the grid in 15th place ready for another three hours of racing.
This marked the first time that I have ever actually started a C1 race- with those duties usually going to James or Alistair. Frankly, I was a little worried of stacking it during my stint (or worse, immediately on lap 1 turn 1...) and denying my team mates their time in the car.
Thankfully, it was a clean start without any contact, and from there is was a case of getting my head down and putting in some good, consistent laps. The consistency was there, and importantly, the pace kept improving through the stint. Some very fun battles were had when catching cars of similar pace, where the race craft I've started to build up from a year of MX-5 Supercup helped to cleanly work my way through them whilst losing minimal time.
It was a pretty uneventful stint, moving forward both in terms of positions and pace, which for an endurance race is about all you can hope for!
Handing over to Alistair and James to finish the race, we were running really well... Until we weren't.
These cars can normally take whatever you can throw at them, but after a season and a half of racing we finally had our first reliability issues. A failing wheel bearing, apparent with about half hour left of the race, was making the car quite unpredictable to drive. A big lockup, causing a big flat spot, led to an unplanned, extra pit stop at a very late stage of the race. This dropped us down the order and effectively ended any chance of us finishing in a decent position.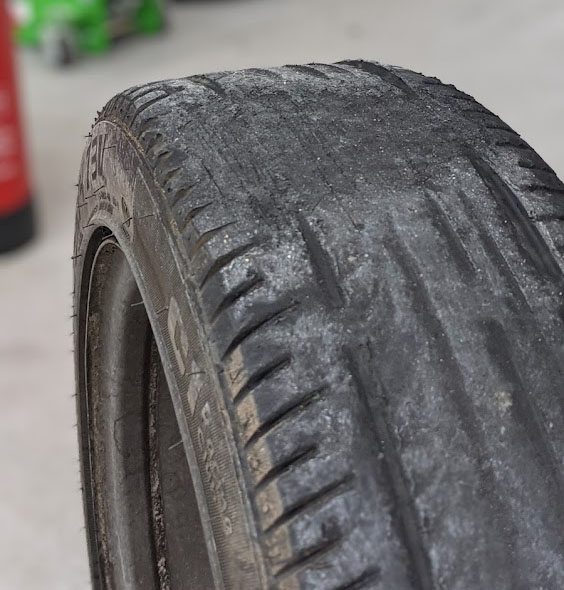 To top off the extra pit stop, the wheel bearing issue became worse, and we decided to retire the car rather than risk further damage when we were so close to the back of the field anyway.
Conclusion
The weekend didn't really go as well as we'd hoped, and we suffered our first DNF. But considering the abuse the car gets put through, it's amazing it's taken this long for something to break!
To draw some positives- pace was good, consistency was good, and it was a lot of fun to practice some race craft in a big grid of cars.
I'm not sure when we'll next be doing a C1 race- it has definitely lost some of the appeal after moving to MX5s, but either way it was a lot of fun and great to be racing back in Wales!